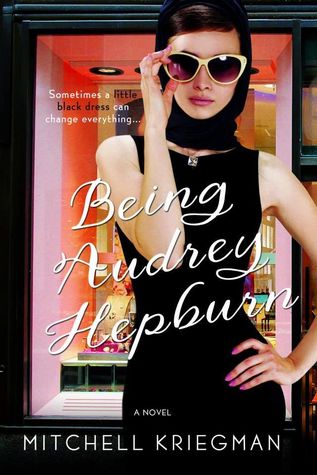 In Being Audrey Hepburn, Clarissa Explains It All-creator, Mitchell Kriegman, tells the story of a 19-year-old girl from Jersey who finds herself thrust into the world of socialites after being seen in Audrey Hepburn's dress from the film Breakfast at Tiffany's.Lisbeth comes from a broken home in the land of tube tops, heavy eyeliner, frosted lip-gloss, juiceheads, hoop earrings and "the shore." She has a circle of friends who have dedicated their teenage lives to relieve the world of all its alcohol one drink at a time.

Obsessed with everything Audrey Hepburn, Lisbeth is transformed when she secretly tries on Audrey's iconic Givenchy. She becomes who she wants to be by pretending to be somebody she's not and living among the young and privileged Manhattan elite. Soon she's faced with choices that she would never imagine making – between who she's become and who she once was.

In the tradition of The Nanny Diaries and The Devil Wears Prada, this is a coming of age story that all begins with that little black dress…
My Rating
My Rating
Being Audrey Hepburn is a fun little novel with a lot of heart. The concept is very cute, and I loved many things about it. It's a nice contemporary read, especially for those of us who are very fond of Audrey and her films.
It's a unique spin on the usual coming-of-age novels. A large topic in the novel involves taking control of your own life and deciding what it is you want to do. Lisbeth initially struggles between what is wanted and expected of her and what she learns she'd like to pursue. I loved this as part of novel, as it is so easy to relate to for many teenagers who feel pressured to live up to expectations and/or decide what they want to do with their live. This, along with her quirkiness and excitement, makes Lisbeth a likeable character...despite the fact that she doesn't always make the best of decisions. (Of course, the times were she can get a bit self-absorbed or in her own little world is probably more authentic when it comes to teenagers than other traits.)
I did like the relationships between characters, and thought they felt true-to-life. Lisbeth had a lot of problems with her family, but they also were important to her. Some friendships and relationships were lasting while some were fleeting. People helped each other and people hurt each other. It wasn't forced or unbelievable. In fact, even the rush into fame felt realistic.
Speaking of which, I absolutely loved the glamor described within the fashion industry and socialite connections. In a sense, it's like a new world that's brought to life through the novel. Which is very cool. The emphasis on fashion and the altered dresses Lisbeth wore were great to read about, and the opening scene at the Met was one of my favorites, just for that reason.
Some parts of the story toward the middle did move a bit slow compared to the rapid ending, but the characters and dialogue still made it enjoyable, all the way to the satisfying end. Being Audrey Hepburn really is a fun read, and I can easily recommend it to contemporary fans.