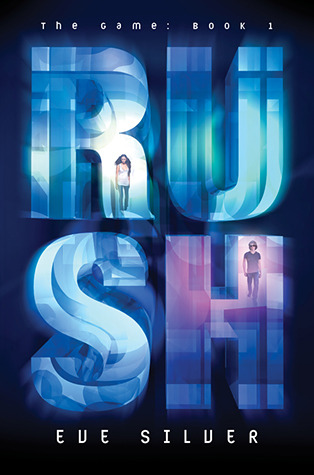 So what's the game now? This, or the life I used to know?

When Miki Jones is pulled from her life, pulled through time and space into some kind of game—her carefully controlled life spirals into chaos. In the game, she and a team of other teens are sent on missions to eliminate the Drau, terrifying and beautiful alien creatures. There are no practice runs, no training, and no way out. Miki has only the guidance of secretive but maddeningly attractive team leader Jackson Tate, who says the game isn't really a game, that what Miki and her new teammates do now determines their survival, and the survival of every other person on this planet. She laughs. He doesn't. And then the game takes a deadly and terrifying turn.
My Rating
My Review
Rush combines everything I love about contemporary with everything I love about science fiction. It is fast-paced, action-packed, and has believable conflicts that range from best friend and boy problems to needing to survive against a deadly alien race. If that doesn't make readers want to snatch up the novel alone, I don't know what will.
The concept of Rush is a rush in itself. There aren't many slow moments at all, as the pages just keep turning and before you know it, it's 3am, you're on the final page, and you have school the next day. Although the idea in itself doesn't seem too revolutionary (I know, I've read Ender's Game), Silver crafted a story that still felt thoroughly unique. Maybe it's the addictive writing, maybe it's the fact that it has a normal life aspect while the characters are not in the game...whatever it is, I wasn't able to get enough of it. There are enough twists in the plot to keep readers guessing, and they aren't obvious. Even when I was so smugly sure I knew what was going on...I didn't. And it was so fabulous to be wrong.
I love the characters of Rush. Miki is strong, funny and has a very authentic teenage voice. It's incredibly easy to root for her character in the story. The relationship between her and Jackson felt very natural. The bickering and biting style of flirting isn't exactly unheard of, but it's something I will never tire of. Ever. The aggravation the two caused each other was so much more delicious than a strictly romantic scenario would have been. Not to mention, Jackson as a character was highly intriguing. He isn't the one-dimensional pretty-boy love interest that can occasional plague works. He has a lot going for him, and his flaws only made me love him more. Plus, is it just me, or could we use some more long-haired dreamboats in YA?
What I really loved about Rush was how believable it felt, despite the fact that it's science fiction. With the way that the game was set up, intertwined with reality, it felt like something entirely real. At least for the time reading. Not to mention, the game itself was highly interesting. The action and intense imagery might it so I was almost there. (Maybe it's the actor in me speaking, but this would make a fantastic film, even just for cinematic reasons.) All in all, the novel is exciting and addictive, and I can't wait to get my hands on the second book.