Publisher: HarperTeen Impulse
Release Date: May 27th 2014
Rate: 4
Synopsis:
Meadow Woodson has been trained to survive. This is a prequel to The Murder Complex, by Lindsay Cummings, and it is set in a blood-soaked world where the murder rate is higher than the birth rate. For fans of Moira Young's Dust Lands series, La Femme Nikita, and the movie Hanna.
Meadow Woodson's father calls it The Fear Trials, and it is a rite of passage in their family. Meadow is up against her brother Koi. The Fear Trials will both harden her and make her brave. If Meadow wins, she will get a weapon of her own and the right to leave the Woodsons' houseboat without her father or mother at her side. Set in the violent, complex, and mysterious world of The Murder Complex, and introducing Meadow Woodson—a teenage girl trained to survive no matter what the cost—and her family, who are together for the last time on their houseboat in the Florida Everglades.
I have only just finished reading
The Fear Trials
and I'm already eager to join fanclubs, buy t-shirts, and completely fangirl over everything relating to that series.
Yeah, it's that exciting.
The Fear Trials is a prequel novella to The Murder Complex series, which sets up the dark and dangerous world of Meadow Woodsen (which, I must point out, is a name that I absolutely love). In the Shallow, murder is as common as shaking hands, and "kill or be killed" isn't just a motto - it's life. Living in a place like this, the only way to survive is choke some moral senses down and fight, not allowing yourself to be controlled by fear.
This novella allows us to first get inside Meadow's head, and see the struggle that she faces with controlling her fear. Not only must she train until makes herself a monster, she must also accept herself when realizing that the monster may have already been there.
I feel that so many novels today focus on the relationships between friends or lovers, and not as many really keep a strong grounding in family. It was so refreshing to see a character whose family matters more to them than just about anyone else. I loved the relationship between Meadow and her sister - as it was so honest and realistic. No matter what words may be exchanged, at the end of the day, most of us would do just about anything for our families. All of the characters were strong, even the few introduced that were outside of the family, and had their own unique personalities that made them seem more real.
The Fear Trials
is absolutely riveting from the start to the finish. With a strong voice, beautiful imagery, and a pace that just won't let readers go, you will be thrust into this world of danger and taken for a wild ride. I reveled in the dark tone while reading, and loved all of the nonstop action. After devouring this novella like I needed to for survival, I cannot wait to get my hands on
The Murder Complex
and continue the story. I have no doubt that this will shape into one of the best YA series I've read.
Follow the FFBC The Murder Complex + Fear Trials blog tour and don't miss anything! Click on the banner to see the tour schedule.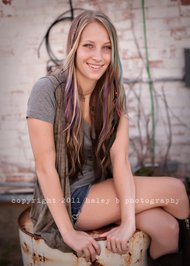 Lindsay Cummings is the 20-year-old author of THE MURDER COMPLEX, as well as its sequel, coming 2014 from Greenwillow Books/HarperCollins, and the MG trilogy THE BALANCE KEEPERS, coming Fall 2014 from Katherine Tegen Books/HarperCollins.
Lindsay deals with chronic fatigue, can't get enough of her two pesky German Shepherds, wolf cub, and two horses. She's still waiting on her letter from Hogwarts--it was probably just lost in the mail. You can follow Lindsay on twitter @lindsaycwrites



Win (1) of (3) signed hardback of The Murder Complex + swag pack (US Only)